Corporate Information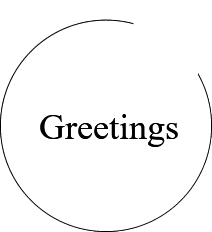 My name is Tomoki Abe, president of Abe Industrial Fireworks. We are a manufacturer of fireworks, located in the Nanatani area of Kamo city, Niigata prefecture.
I'm the fourth-generation president of the company, which is over 100 years old. We produce, set off and sell firework shells from 2.5inch to 36inch, mainly large ones (8inch to 36inch).
Although Japanese round-shaped fireworks need a number of processes that require time and efforts to produce, we have always handcrafted them, one by one. There are a number of processes before fireworks are shown to audience: compounding powder, making shells with it and set them off. The whole processes need a lot of patience and care. Cherishing the skills and knowledge accumulated for a long time and showing deep gratitude to our ancestors and supporters, we will continue to create fireworks that are safe and touch the heart of the audience.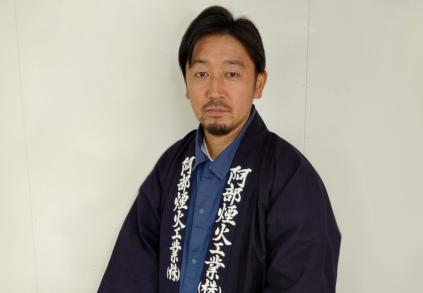 Our fireworks are comprised of devotion of all our staff. Taking good care of the teamwork, we all will aim to be a company where the employees take pride in fireworks production, and enjoy engaging in their work.
Abe Industrial Fireworks, Ltd.
Tomoki Abe, President
Company Information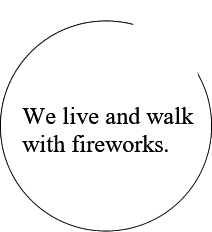 Company Name
Abe Industrial Fireworks, Ltd.
Began operation in
The early Taisho period (1912-1926)
Incorporated the business
November, 1952
President
Tomoki Abe
Chairman
Masaaki Abe
Headquarters
1-15-1 Shinmachi, Kamo, Niigata
TEL: +81-256-52-0135


+81-256-52-0179


FAX: +81-256-52-3507
Factory in Tsuchikura
445 Kamitsuchikura, Kamo, Niigata
TEL: +81-256-52-6189
FAX: +81-256-53-3113
Main Bank
Daishi Bank (Kamo branch)
Company History
The early Taisho period
(1912-1926)
Initiated business
1928
Set off 2-shaku dama at the firework festival sponsored by Dainihon Kodansha in Omiya city, Saitama prefecture.
November,
1952
Incorporated the business and name the company Abe Industrial Fireworks, Ltd.
August,
1958
Set off fireworks in Afghanistan to commemorate the independence of the country.
September,
1970
Succeeded in production of 3-shaku dama (36inch, 90cm-diameter shell) and set it off in Katagaimachi, Ojiya city.
September,
1980
Succeeded in setting off the first 3shaku dama (36inch, 90cm) daylight shell.
September,
1982
Succeeded in setting off 3-shaku 3-sun dama (40inch, 100cm), the world's largest-sized firework at that time. Listed in the Guinness Book
December,
1990
Constructed a new 15,000m² factory in the Kamitsuchikura area, Kamo city.
Began its operation as the main factory.
November,
1991
Shouhei Abe, factory manager, was recognized as one of the great craftsmen in the present world by the Japanese government. He became the third person to receive the honor in the industry.
October,
2000
Set off fireworks at the closing ceremony of Olympics in Sydney.
February,
2002
Set off fireworks at the closing ceremony of Olympics in Salt Lake City.
2008
Cooperated in setting off fireworks at Olympics in Beijing.
Access
Headquarters
1-15-1 Shinmachi, Kamo, Niigata
TEL:+81-256-52-0135


+81-256-52-0179

FAX:+81-256-52-3507
Factory in Tsuchikura
445 Kamitsuchikura, Kamo, Niigata
TEL:+81-256-52-6189
FAX:+81-256-53-3113